Description
This is an edition of 5 with one artist print.
6 lambda C-type prints mounted on 3mm Foamex PVC.  Each print is 28 x 24 inches and arranged with 1 inch gutters giving 86 x 74 inches in total. 
Clearly influenced by David Hockney's "A Bigger Splash," 1967, this photograph concentrates on the actual splash rather than the background buildings as is the case in the Hockney painting. The splash may have lasted a couple of seconds but was frozen for a mere 1/3200 of a second.  The scale of the work (in this edition) is slightly larger than life-size at the point where the swimmer has jumped into the water and, together with the shutter speed, allows the viewer to see detail that is normally unseen. The red of the swimmer's hat and costume is reflected in the droplets nearest to her. The choice of red swimwear was deliberate to produce a visual contrast between the blues.
The original work was commissioned for a newly built home. It was shot over two sessions producing about 180 individual photographs. These were edited down to 12, which were then viewed and discussed with the client to arrive at the final image.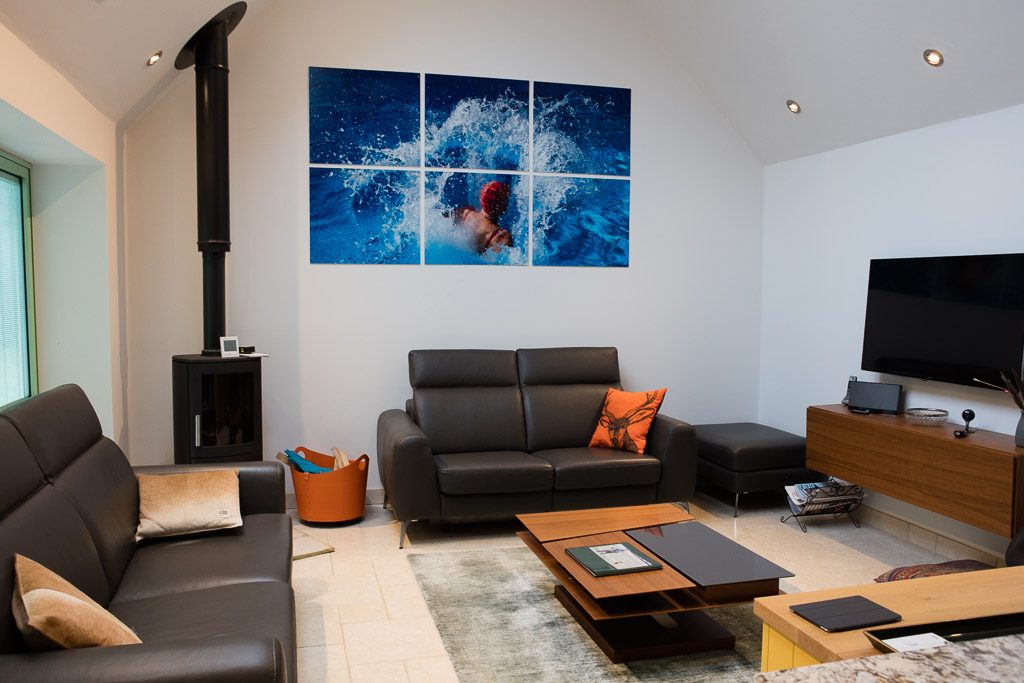 This artwork comes with a Certificate of Authenticity, signed by the artist.
Foamex PVC is a strong plastic. PVC is not affected by humidity. This is the ideal surface for photographs. The individual panels are mounted using sticky velcro.